Welcome to the realm of wonders. Bulgari invites you to discover an extraordinary world of marvels, boundless creativity and unrivaled mastery with the launch of its latest High Jewelry and High End Watches collection Bulgari Eden The Garden of Wonders. 
Consisting of over 140 masterpieces, the collection includes for the first time in the Bulgari history more than 30 creations dedicated to the magnificent emerald. This stunning tribute to the Maison's long-standing affinity with the exquisite gemstone boasts some of the most extraordinary wonders of nature ever brought to light, representing an ode to eternal splendor. 
 Interpreted rather than just emulated, nature delivers an endless territory of imagination that only human mastery and Bulgari's aesthetic sense can sublime into true works of art.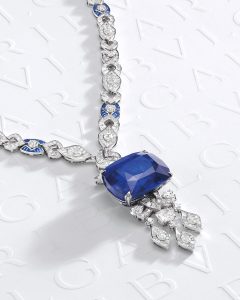 A perfect example of this uniqueness, the Emerald Glory piece is an unparalleled high-jewelry creation, whose texture reproduces the softness of lace. Designed with transformability in mind, it can be worn as a necklace, or as a tiara, and it also features a detachable choker. This piece, that required over 3000 hours of handwork to be fully completed, shows an incredible layout of 11 pear-shaped Colombian emeralds surrounded by a cascade of diamonds, totaling over 220 carats.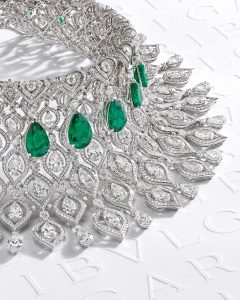 As its name suggests, the collection evokes a breathtaking universe, where the majesty of mother nature expresses itself in its rarest and most beautiful forms and meets the most sophisticated human creations in a continuous, prolific dialogue. 
While Rome's magnificence continues to inspire and amaze the jeweler's works of art, the legendary Serpenti sign, an icon of power and audacity, epitomizes the concept of a creative endless transformation, shining and seducing through sinuous silhouettes and tactile textures. Celebrating the idea of metamorphosis, the Serpenti Spinel Embrace necklace, crafted from pink gold and diamonds, wraps around a 25,70-carat drop-shaped pink spinel from Tajikistan;  while in the Serpenti Ocean Treasure,  two snakes fuses into one, creating the platinum and diamond necklace, featuring a twisting  movement that holds an exceptional 61,30-carat drop-shaped Sri Lankan sapphire.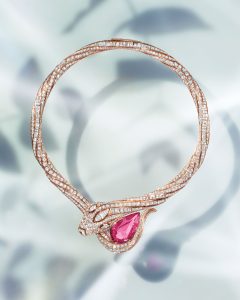 BLOSSOMING COLORS 
Bulgari, the master of colored gemstones reaches new heights of color experimentation with this new collection, juxtaposing to signature chromatic matches with unprecedented daring yet utterly elegant pairings. Like nature awakens after the long winter sleep, a jubilee of wonderful flowers blossoms on the Flowers of Eden necklace, which perfectly epitomizes the collection's richness.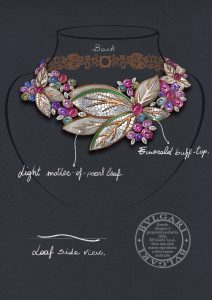 Extraordinarily lightweight, this outstanding creation, injected with versatile dynamism, exudes grace and feminine beauty through its sinuous shapes and amazing combination of vibrant shades. Intentionally asymmetric, highlighting the spontaneity of nature, tourmalines, carnelians, amethysts and emeralds joyfully surround three impressive mother-of-pearl flowers enriched with diamonds. Handcrafted using an ancient mold technique and wax tablets, this piece required 1,500 hours to be completed. 
MAGNIFICENT NATURE 
Incredible gems, the rarest and most sublime gifts of nature, that from their eternal origins in the innermost depths of the Earth, are now glorified by Bulgari with a unique mix of craftsmanship and imagination. The skilled hands of the jeweler's goldsmiths interpret superb ideas combining design and a rigorous architectural approach giving shape to dazzling pieces, offering a unique mix of refinement, comfortable fit and ultimate versatility. 
Emeralds, Bulgari's icons since the Sixties, are the absolute protagonists of the Tribute to Paris necklace, that celebrates the artistic bond between two of the most exceptional cities in the world, Rome and Paris. Sparkling as the most glamorous Parisian nights, this piece, that required 2,000 hours to be handcrafted, features an incredible 35,53-carat oval- shaped Colombian emerald surrounded by exquisite inlays of emeralds and diamonds evoking the slender silhouette of the legendary Tour Eiffel. Balancing movement and weight, Bulgari's artisans succeeded at delivering a harmonious necklace that, despite the unique preciousness of its gems, is soft and lightweight, guaranteeing a perfect fit. 
Designed to amaze, the Mediterranean Reverie necklace is one of the most precious creations ever realized by the Roman jewelry house. An ultimate fruit of Mother Nature's magnificence, a rare 107,15-carat cushion-cut Sri Lankan sapphire, stands out on this necklace with its intense yet transparent blue shade, that immediately evokes the hues of Capri's Blue Grotto sea cave. Exuding timeless elegance, the piece shows a sophisticated chain combining platinum, baguette-cut sapphires, as well as an array of diamonds different cuts, from brilliants and pears to pavé sets.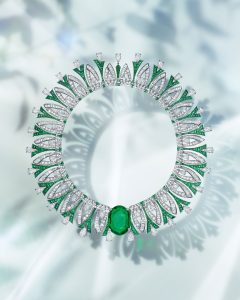 JOYFUL WONDERS 
Bulgari's boundless and unstoppable creativity expresses into new striking forms in a range of pieces, conveying a bold message of extravagance and vibrant vivacity.    An example of refined, elegant flamboyancy, the Emerald Venus necklace shows a unique, dynamic, intentionally irregular design inspired by the Capelvenere, a  type of Mediterranean fern whose Italian name, translating with Venus' Hair, a tribute to the Greek goddess of beauty. One-of-a-kind branches of emerald beads and diamonds grow around an impressive 20-carat Colombian octagonal-cut emerald, that astounds not only with its unique color, but also with its sophisticated balance. Impressive, but lightweight, this necklace reflects Bulgari's unique, vivacious take on feminine grace. The stunning creation is part of a set that also includes a matching outstanding high end watch, where emeralds are paired with baguette, pave and round brilliant-cut diamonds. The timepiece, that required 900 hours to be crafted by five different artisans, features the white gold dial covered with an unexpected mint green tourmaline for an extra special touch.